Saturn is the home planet of Alinivar and Col. Saturn, and where the first chapters take place.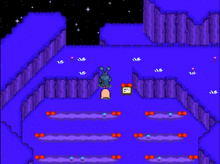 The planet itself is never passed through, instead, its civilizations and wild areas are located in the rings of the planet. Its most notable places are: Satralia, Sataene and Old Sataene
Col. Saturn mentioned that there's no jail on Saturn.
The Outskirts of the towns in Saturn's rings seem to be unstable, since pieces of land dissapear every so often, giving in to the vastness of space.